By the RORG Team
---
This year's Year in Review is dedicated to Prof. Bill Gamble, center. Our bridge could not have been built without him. He passed away May 2022.
Photo by Travis Tate.
---
Welcome to RORG's Year in Review — our third one! You can read about prior years here and here. Before we start, we'd like to express our gratitude to all of the volunteers that gift us their time and talent. We also thank University of Illinois Extension, Extension's Natural Resources, Energy, and Environment program, and Illinois-Indiana Sea Grant for their leadership and UIUC Facilities & Services for their continued support. And thank you to everyone that follows and interacts with us throughout the year! From the renovation's start, Eliana's goal for RORG is to combine vibrant engagement with education and we hope you see that in everything we do. Hope you enjoy our look back!
Pro-tip for gardeners: throughout this blog, you'll find some of Layne's favorite RORG plant combinations. Be sure to check those out as you plan your 2023 gardens!
LATE WINTER
Public Engagement
This year started off with great additions to the RORG Team. As part of a Department of Communication internship program, we welcomed Sydney Nielsen, Communication major, as our Spring 2022 Student Intern. Throughout the semester, Sydney was involved in RORG's social media, including blogging and helping to plan and prepare for the Mulch Madness competition (see more below). We also welcomed Gabe Harper, Extension Sustainable Communities Assistant, who helps coordinate our volunteer stewardship efforts among his other tasks for Extension's Community & Economic Development program.
In March, we kicked off our third annual Mulch Madness native plant competition. This contest, a parody of the NCAA's "March Madness," promotes native plant knowledge and reaches hundreds of people playing along and thousands of people interacting. Of 28 competing species, this year's champion was Wild Hyacinth, winning a hard-fought battle with Southern Blue Flag Iris in the Championship game. Congratulations, Wild Hyacinth! And congratulations to Shelly Palmer who had the winning bracket!
In the Rain Garden
February 2022 saw a large snowfall blanketing RORG, revealing the numerous wildlife visits to the rain garden. The snow provided interaction for students too. Snowpeople appeared and delighted passersby. On that note, Facilities & Services always does an amazing job clearing walkways and parking lots. Look at those snowhills!
Late winter 2022 in the rain garden. Photos by Eliana Brown.
By late March, it was time to get into the rain garden to prepare for the growing season. We were happy to host Bridgette Moen's Landscape Architecture Studio class, who worked alongside RORG Team members and Champaign County Master Gardener and East Central Illinois Master Naturalist volunteers. This annual event is a collaboration with Facilities & Services, who support our efforts by providing staff to help transport debris from the rain garden.
Volunteers working in RORG for the annual spring cleanup. Photos by Layne Knoche.
Late Winter Blogs:
SPRING
Public Engagement
In late April, the RORG Team hosted a Garden Party to celebrate the completion of the boardwalk bridge that spans the rain garden. Remarks were made by Illinois Extension Director Shelly Nickols-Richardson and Shibu Kar, Illinois Extension Assistant Dean & NREE Program Leader and Illinois-Indiana Sea Grant Associate Director. Eliana made additional remarks highlighting Structural Engineer Bill Gamble, Construction Manager Shannon Tucker, and Allerton Park, who gifted the bridge's sustainably sourced lumber. Then, she was joined by Layne to give a guided rain garden tour. At the event, the crowd was treated to acorn- and squirrel-shaped cookies from local bakery Berries & Flour.
The Garden Party was well-attended on a beautiful early spring day. Photos by Travis Tate, Morgan White, and Matt Wiley.
In preparation for the April Garden Party, we once again collaborated with Facilities & Services, who provided mulch for the garden. RORG has a plant-centric design with groundcovers acting as "green" mulch, however, some wood mulch can still be needed. The last time we spread mulch was during the renovation three years ago! This time, we partnered with students from the American Society of Landscape Architects – UIUC Student Chapter and the Beekeeping Club to accomplish the task. The workday was so successful that we decided to add a Thursday evening volunteer session that allows more students to attend. Gabe led these weekly workdays, which expanded RORG's ability to involve and educate student volunteers.
Students volunteering at the garden in the days leading up to the Garden Party. Photos by Layne Knoche.
The RORG Team also took care of the rain garden's hydraulic health. As a rain garden, rainwater flows in and through it. Eliana's early season inspection noted erosion at the inlet which had to be addressed to prevent further damage. Layne did the repairs himself! The pipe under the sidewalk also needed its annual clean out, which Facilities & Services did. These kinds of maintenance tasks help to ensure that we continue to have a properly functioning rain garden. Read about these issues here.
Exciting additions to the rain garden in 2022 include the installation of RORG's logo near the entrance of the garden near Dorner Drive and on the bridge landings. You can only see the latter when it's wet! Thanks to Rainworks, an environmentally-friendly hydrophobic spray, the RORG logo appears every time it rains — turning rainy days into a reason to smile. 🙂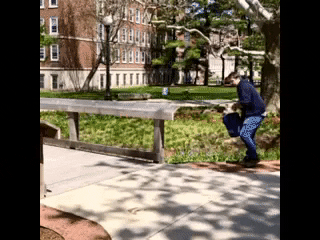 RORG's logo on the new mural and Rainworks painting. Photos by Layne Knoche.
In the Rain Garden
RORG's plants, entering into their third growing season since the renovation, started the year off with a great show. Our spring ephemerals, including the popular Virginia Bluebells and 'Prinses Irene' Tulips, were beautiful as always. It was clear early this season that many of RORG's groundcover species had become well established, and by May, nearly the entire 10,000 square foot rain garden was covered in a functional, lush carpet of vegetation.
Spring Blogs
SUMMER
Public Engagement
As Sydney wrapped up her spring internship, we welcomed the addition of our newest Student Team member, Piper Siblik, thanks to a NIFA Research and Extension Experiences for Undergraduates grant and Extension's Lisa Merrifield. With guidance from Eliana and Layne and vital input from our volunteers, Piper immediately got to work building an interactive virtual map of the rain garden. The intent is to increase the literacy of our plants, whose identification helps stewardship efforts while building on our public outreach and education. This map, which has been in development since June, is expected to launch publicly in early 2023.
In June, Layne provided the statewide Illinois Extension Horticulture Team with a tour while they were on campus for in-service training. Though many of the team members have known about RORG for years, for some, this was their first opportunity visit to the garden!
In July, Eliana and Layne joined Janice Milanovich for an Extension Everyday Environment webinar where they shared practical tips to manage stormwater as it relates to weather extremes. Watch the recording here. Also in July, Layne was a guest speaker on Extension's Spotlight on Natural Resources podcast to talk about creating a functional woodland garden with Soft Landing plantings. The podcast can be found here.
During Orientation Week in mid-August, Layne met with several groups from around campus to provide tours of the garden. In one day alone, nearly 70 students were introduced to RORG!
In the Rain Garden
RORG volunteers (aka Red Oak Rain Guardians) continued weekly workdays with the RORG Team, keeping the garden beautiful while getting lessons on particular native plant species from Layne and Gabe.
Despite severe drought conditions over the summer, RORG's plants fared well. Most of the plants entered their third growing season at the garden, meaning they were on the cusp of having developed extensive enough root systems to survive the type of drought conditions we faced. However, to err on the side of caution, volunteers added supplemental water when needed. Learn more about how droughts can affect rain gardens in this blog.
Summer Blogs:
FALL
Public Engagement
The RORG Team welcomed Maddy Craft, a long-time student volunteer with RORG, onboard as our Student Engagement Coordinator. In her role, she helped coordinate and facilitate student participation at the rain garden.

Fall was a busy season of tours and presentations for the RORG Team. In early September, we held a new volunteer RORG orientation and tour. Later in the season, tours were given to folks attending the With Illinois Campaign: Celebrating the Impact in ACES event and to the Illinois Extension Natural Resources, Energy, and Environment (NREE) Team. In September, Eliana made presentations for Extension's Master Naturalist Education Series and at the Unit 10 (Knox Co.) Core Master Naturalist Training and Layne presented at the Southern Illinois Conservation Workshop. Wrapping up fall outreach, in October Layne guest lectured about stormwater for Meredith Moore's College of Engineering 177 course.
Eliana has been working with the University Foundation to establish a long-term maintenance fund for RORG. This year, we were able to announce the launch of a new donation hub to help make donating easier. The long-term maintenance fund will ensure the rain garden has a bright, sustainable future and continue being a showpiece of green stormwater infrastructure. Happily, we are a third of the way towards meeting our fund goal! If you're interested in giving a tax-deductible donation, visit extension.illinois.edu/giftpage and select "Red Oak Rain Garden" as the specific program.
In the Rain Garden
Fall brought a wave of showy yellows, reds, and oranges to the garden, though the display of color was short-lived. Most of RORG's plants entered dormancy early this year due to several consecutive nights of sub-freezing temperatures in early October. However, a few Smooth Blue Asters, 'Rozanne' Geraniums, and Orange Coneflowers made it through the cold, with some straggler pollinators still being seen visiting those blooms into November.
Fall Blogs:
EARLY WINTER
Public Engagement
In early December, RORG volunteers gathered one last time in 2022 for a workday. Our volunteers are true land stewards, which shows in our approach to "winterizing" the rain garden. We strive for a balance between removing enough leaves to allow underneath plants to survive and keeping as many leaves as possible. This helps support the health of pollinators and other wildlife that need winter leaf cover while ensuring plants thrive come spring.
In early December, Eliana and Layne were honored to guest-host the iSEE TED Talk Eco-Edition Series. They gave a brief green stormwater infrastructure presentation, which included RORG, and showed a TED Talk by Dr. Virginia Smith of Villanova University, followed by interactive discussions in break-out groups.
In the Rain Garden
And now we return to winter, beginning with a beautiful mid-November snow. We all know there's something magical about the season's first snowfall. At RORG, it transforms the garden into a lesson about plant structure, color, and texture in a different way than seen in high summer. Winter snow tops the seedheads of many of RORG's plants, notably Orange Coneflower and Purple Coneflower, punctuating each stem. Red Chokeberry's scarlet pops against the snow drawing our eye, while the sedges and grasses' frosty blades are surprisingly charming. Of note this year is a newcomer to the stunning winter-interest species list: 'Hummelo' Betony found at RORG's Expansion Garden. We encourage you to bundle up and go see for yourself!
Early winter 2022 in the rain garden. Photos by Layne Knoche and Eliana Brown.
Wrap-up
Public Engagement
RORG's online engagement remained strong this year, with more than 8,000 website views and more than 1,000 blog reads. Currently, RORG has more than 600 followers on Facebook, nearly 600 followers on Instagram, and more than 400 on Twitter. The RORG Team reached over 1,000 people this year through virtual, in-person, and hybrid presentations, gave tours of the rain garden to nearly 200 people, and had 63 participants volunteer in the garden. Of these, 18 are regular volunteers, a.k.a. the Red Oak Rain Guardians, up from 12 at the end of last year.
As usual, our biggest event of the year was Mulch Madness, which racked up nearly 30,000 online views. We're excited to continue this fun, educational event in the future!
In the Rain Garden
This year's severe drought tested RORG. To put 2022 in perspective, the garden received 30.31 inches of precipitation, approximately 11 inches less than the yearly average of 41.38 inches. (Shout out to our CoCoRaHS rain gauge watchers, Katrina Kotowski and Karen Folk!) It may seem counterintuitive to design a rain garden for dry times, but these variable conditions necessarily factor into RORG's design. As such, most RORG plants successfully withstood this year's hot, dry weather. The RORG Team monitors plant health and during a mid-fall assessment, Layne noted the few species that didn't do well, which will be addressed. Aligned with our adaptive management approach, we look to broaden and enhance the species selection in the coming years. It helps that our volunteers have become more comfortable and confident with the plant species found in the rain garden (always our goal), which allows us to expand. Watch for exciting additions by fall 2023!

Final Thoughts
As we're finishing our third year managing RORG post-installation, we again notice the analogy of the plants and the garden's support. Native plants generally take three years to establish. They "sleep, creep, and then leap", with the work done during the first two years happening beneath the surface. In 2020, we put down roots and began establishing a volunteer and donor base — the foundation of a healthy support system for the garden's long-term success. Last year, we expanded this foundation. We progressed with RORG's final construction phase, developed our volunteer base further, and transformed space beyond the garden. And in 2022, we leapt by holding a Garden Party, expanding options for volunteer stewardship, and establishing a campaign for sustainable financial support.
We can't wait for 2023!
If RORG fits in with your year-end giving plans, please consider a tax-deductible gift.